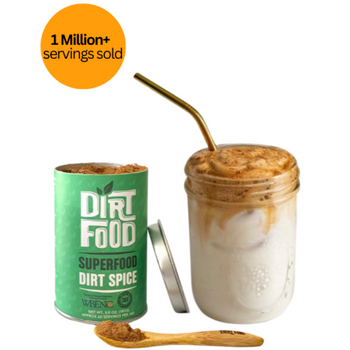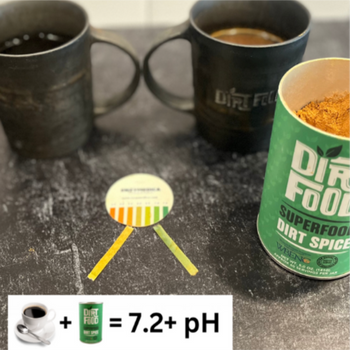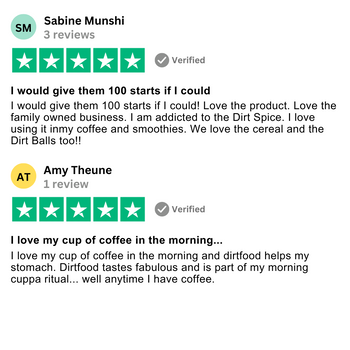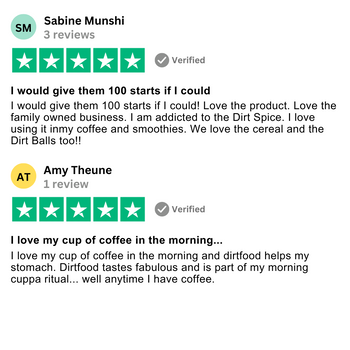 Alkalizing Dirt Spice (for coffee, tea, smoothies)
4.8***** TRUSTPILOT REVIEWS
Acid reflux, gut intestinal or IBS issues with your morning coffee? Well then, welcome to your new obsession. Created out of necessity with 16 powerhouse superfoods and minerals to turn any cup of coffee into delicious alkaline nourishment. Kinda like what spinach was for that lovable Sailor Man.
TRY DIRT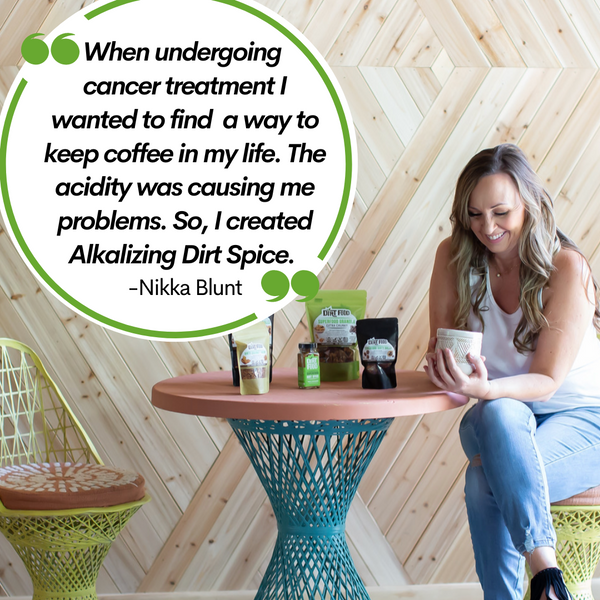 More than 1,000xACIDIC than tap water, coffee's acidity is dehydrating with a pH of ~4

Acidity in coffee can effect cervical mucus. When your cervical mucus is too acidic, it becomes hostile for incoming sperm, making conception difficult

Acidity is the among the most common cause of GERD, acid reflux, irritable bowel syndrome

Higher acid producing foods can lead to higher mortality from all causes, not just from cancer. Decreasing intake of acidic coffee can help protect healthy cells and balance essential mineral levels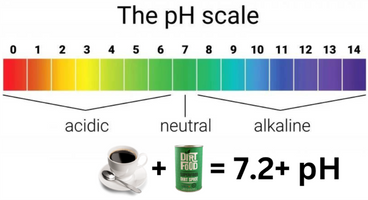 THE DANGERS OF ACID IN YOUR COFFEE
Most coffee is extremely acidic, with an average pH value of ~4. While coffee's acidity is fine for some, it may aggravate certain health conditions in others – like acid reflux, gastric ulcers and irritable bowel syndrome (IBS). Coffee's effects on these conditions are attributed to its acidity. Since our stomach acid levels are around 2.5 pH, when we add acid to an already acidic environment, we can intensify these issues. Just ½ teaspoon serving of Alkalizing Dirt Spice will convert ANY cup of coffee from ~4+ to ~7.2+.
The Most Bioavailable Minerals and Superfoods Sourced from the Earth
32+ Superfoods, Nutrients & Plant-Based Ingredients
Dirty Balls (like Granola Donut-Holes)
They start with the base of our Chunky Granola, rolled in Coconut sugared Dirt Spice before soft-baking them.
They're also Protein-Packed | Alkaline-Rich | Vegan | Gluten-Free | Non-GMO | Free of Processed Anything
TRY OUR SNACKS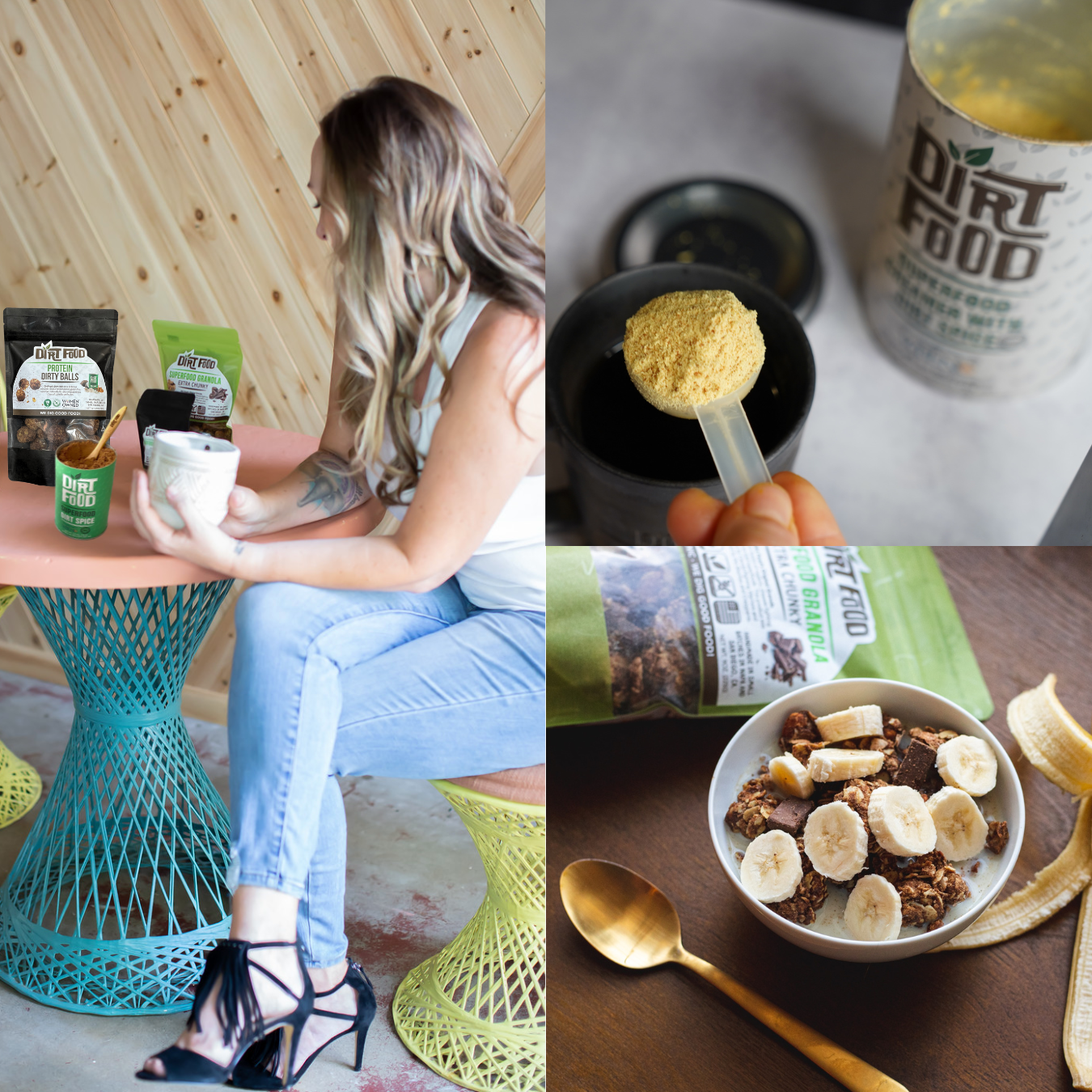 Quick view

Superfood PB Granola

Regular price

Sale price

$14.99
Quick view

Alkalizing Dirt (5oz)

Regular price

$39.99 $119.96

Regular price

Sale price

$39.99 $119.96
Quick view

Protein Dirty Balls (18-count)

Regular price

Sale price

$14.99
Quick view

Superfood Alkaline Creamer with Dirt Spice (8oz)

Regular price

Sale price

$34.99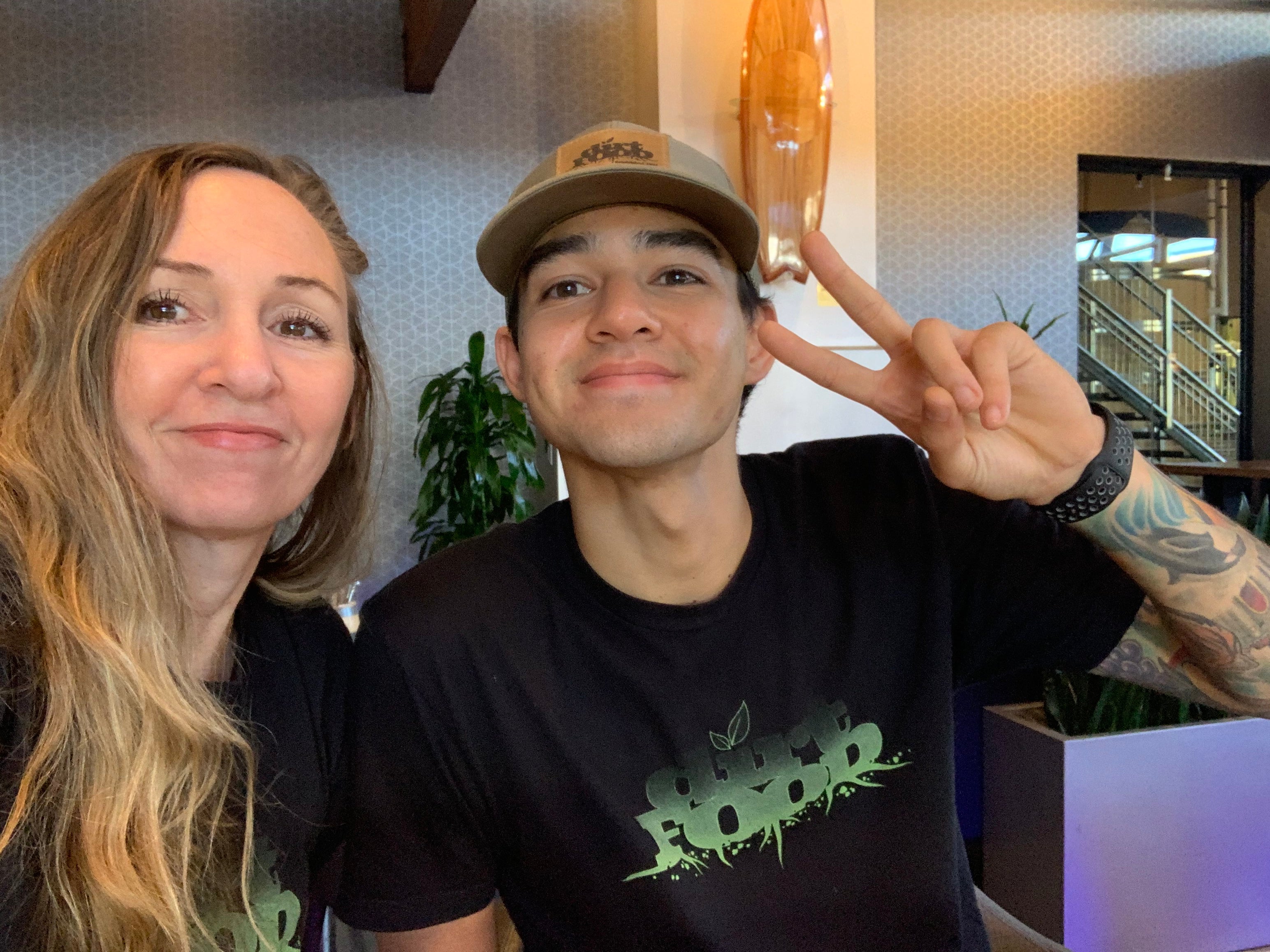 OUR STORY
Today, most of us are within 1 degree of separation from someone fighting cancer, diabetes, or heart disease. I was born at a time with 6 degrees of separation. Raised on good food. Real food, right?
Read More
Real Food. Dirt Food.
Just good food grown from mother earth. We're a certified woman-owned company, so we're fanatical about it.

VEGAN

GLUTEN FREE

SOY FREE

NO PRESERVATIVES

NO ARTIFICIAL
Colors, Flavors, Sweeteners